UNLOCK THE POWER OF SOLAR ENERGY!
SAVE MONEY ON YOUR ENERGY BILLS!
AND GET . . .
FREE Blown-In
Attic Insulation!
Are you tired of skyrocketing energy bills and uncomfortable temperatures in your home? GVS Solar Energy has the perfect solution for you! Get ready to enjoy the benefits of residential solar energy and receive a FREE blown-in attic insulation upgrade* with your purchase. Enter your contact information to get your free solar estimate.
Insulation: Protecting People, their Pocketbooks and the Planet
Hosting rights granted by NAIMA
Attic insulation protects you and your family, your home, and our planet. By creating a thermal barrier, proper insulation reduces energy consumption, lowers utility bills, and promotes energy efficiency. It also increases comfort levels inside your home, as it regulates temperatures and minimizes drafts
Additionally, proper insulation contributes to sustainability by reducing greenhouse gas emissions associated with energy production and conserves our natural resources. By providing insulation and soundproofing, it enhances your overall quality of life while minimizing the impact on our planet
Do You Know the R-Value of Your Home's Attic Insulation?
Many homes in Southern Nevada have inadequate insulation. An under-insulated attic can lead to inefficient heat gain or loss, causing discomfort and increasing your energy expenses.
Today's R-Value (resistance to heat flow) standard that was recommended by the Dept of Energy in 2021 for Las Vegas is R49. However, homes built before 1990 and up to the 2000s have an R-Value below R19 and up to R30.

Why Upgrading Your Attic Insulation is a Smart Move!
ENERGY EFFICIENCY:




By improving your attic insulation, you can significantly reduce heat transfer, keeping your home cooler in the scorching summer months and warmer during chilly winters. This results in lower energy consumption and substantial savings. This is why homeowners are upgrading their insulation, saving an average of 15% and up to 30% on monthly energy bills. An added benefit is it helps to prevent unnecessary HVAC repair costs and extends the lifetime of your system.
INCREASED COMFORT:




Don't let your attic turn into a heat trap where the only place for all that heat to go is into your living space. Proper attic insulation creates a more comfortable living environment by preventing drafts, temperature imbalances, and humidity issues. Enjoy a consistent indoor atmosphere year-round.
RESALE VALUE:




Upgrading your attic insulation not only enhances your home's energy efficiency but also increases its resale value. Potential buyers appreciate a well-insulated home, making it a valuable investment.
Why Choose GVS Solar Energy?
At GVS Solar Energy, we are committed to providing exceptional service and helping you maximize your energy savings. Here's why we're the top choice for your solar panel installation and attic insulation upgrade:
EXPERTISE AND EXPERIENCE:




With years of experience in the solar industry, our team of professionals have the knowledge and skills to design and install a customized solar energy system tailored to your specific needs.
HIGH QUALITY PRODUCTS:




We only work with industry-leading manufacturers to ensure that you receive the most efficient and reliable solar panels. Additionally, our blown-in attic insulation meets the highest standards of quality and performance.
COMPREHENSIVE SOLUTIONS:




We offer a one-stop solution for your energy needs. With our solar panel installation and blown-in attic insulation, you can maximize your energy savings and enjoy a more comfortable home.
PROFESSIONAL INSTALLATION:




Our trained technicians handle every aspect of the installation process, ensuring a seamless and hassle-free experience. We take care of all the details, so you can sit back and relax.
Take the First Step Towards Energy Efficiency!
Ready to start saving money and increasing your home's comfort? Fill out the form above to request a free estimate for your residential solar energy PV system and a free blown-in attic insulation upgrade.

*
Don't miss out on this incredible opportunity to double down on your energy bill savings and create a more energy-efficient home. Save thousands of dollars on the cost of equipment and installation. Earn the 30% Solar Federal Tax Credit when you go solar this year!
Join the solar revolution with GVS Solar Energy today!
GET MY FREE SOLAR ESTIMATE NOW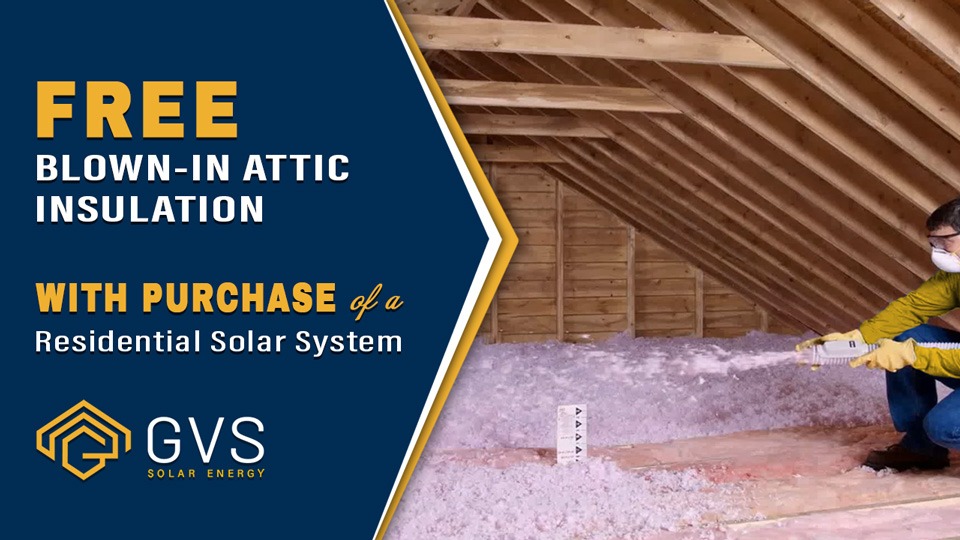 *
Free blown-in attic insulation includes 300 sq ft. of blown-in fiberglass insulation per DC kW with the purchase of a residential solar energy PV system - minimum of 8 kW system or larger.
EXAMPLE: 300 sq. ft. X 8 kW = 2400 sq. ft. of FREE insualtion